Here, at Doggin' Around Day Care, we believe that continuing education is key for both dogs and our employees. Our trainers strive to provide that education for both you and your dog in the most enjoyable way possible. Whether you want your dog to continue their obedience training on to the next level or if you just want to have some fun and learn some new ways to challenge your dog, we've got you covered!
Trainer Ellen Henderson – 2954 Seaborg Ave.
Ventura, CA 93003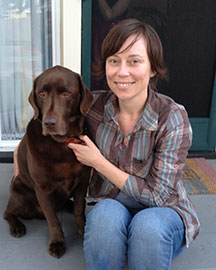 Ellen has been living with dogs her whole life and has been working with them professionally since 2008 as a trainer/dog handler. Once she graduated from CSULB with a degree in psychology she quickly realized she wanted to make a career out of her passion: working with dogs and their owners. To further her knowledge of dog behaviors and training, she has studied many other methods including world-renowned trainer Dr. Ian Dunbar and attended his seminar in San Diego in 2012.
Contact Ellen
More about Ellen
PUPPY PLAY
Saturday 11am 
$5 to play
Requirements: 2 rounds DHPP and Bordetella, to start.
Classes are limited to 25 dogs, first come first serve, one person per family. Masks required.
Early puppy socialization is so important! Come out and join Doggin' Around Day Care for our free community group play event. 
BASIC OBEDIENCE
Saturdays • January 8 – February 12
10:00am – 10:45am


6 weeks – $180
Obedience training is teaching our dog different things that we want them to do! This class will cover basic commands such as sit, down, stay, leave-it, come, etc. The class will include engagement exercises and tips on energy and leadership! We need to see proof of Rabies, DHPP, Bordetella.
Download Necessary Forms
Confidential Pet Behavior History
Release of Liability
Ellen is available for private lessons please call her directly at (714) 724-3951
Private Dog Training
Private Consultation/Training
Local $75 session (45min) 
Prices may vary depending on training location.

6 session Package $375

Behavioral Consultation $75