Dog Training Classes With Ellen
Doggin' Around Dog Trainer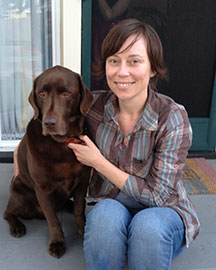 Ellen Henderson
CPDT and AKC CGC Certified
Ellen has been living with dogs her whole life and has been working with them professionally since 2008 as a trainer/dog handler. Once she graduated from CSULB with a degree in psychology she quickly realized she wanted to make a career out of her passion: working with dogs and their owners.
To further her knowledge of dog behaviors and training, she has studied many other methods including world renowned trainer Dr. Ian Dunbar, and attended his seminar in San Diego 2012. Ellen also loves reading books by her favorite dog mentors Karen Pryor, Patricia McConnell, Ian Dunbar and numerous others.
Her strengths lie in rehabilitating shy/aggressive dogs back into the pack. Teaching a dog how to be a "dog" again is so rewarding. Ellen plans on working in this field until she retires and is hungry to continue learning and teaching all she can about man's best friend. To find out more about training classes please email Ellen at ellensdogs33@gmail.com — Read some of Ellen's Testimonals.
Have our trainer assess your situation and start your dog on its way to leading a happy, calm and stable life!
Does your dog potty in the house? Lunge aggressively on leash at other dogs/people? Bark incessantly at strangers? Have separation anxiety? Can't get your dog to listen to you? Afraid of riding in the car? Has bitten another person or dog? Have a new puppy? Call now if your dog exhibits any of the above behaviors, we can help!!
Download Necessary Forms
Confidential Pet Behavior History
Release of Liability
Breed and Puppy Selection Consulting
Before you bring home a new dog or puppy, be sure it fits your personality and lifestyle. Too many times, owners get hung up on a specific breed or puppy and bring it home without doing the proper research on the breed's general requirements, background, temperament and energy levels. Let us help you select the right dog for your lifestyle.
$60 an hour
House Training Your Puppy
House training, chewing, socializing. Whatever you need we can help.
$60 an hour
Doggin Around Day Care Training Classes Click Here
Private Dog Training and Behavior Modification
90% of all behavior problems can be solved through these consultations. Whether your dog has mild or severe issues, we can help you turn things around immediately and put you and your dog in a position to control or eliminate the behavior altogether. These are private, one on one, training sessions for pet owners. We tailor these sessions to the specific issues you are having and target them in your dog's environment.
PACKAGES START AT $375 FOR 6 SESSIONS OR $75 AN HOUR
Prices may vary depending on the location.
Puppy Socialization
Puppies 8weeks – 6months.
Must bring proof of vaccination records, only need to have first round complete and a recent vet visit receipt to determine in good health.
Safe, sanitary place to bring your puppy during the important small window of development that they need to be exposed to many people and dogs.
$5 PER CLASS. PAYMENT DUE WHEN YOU ARRIVE FOR CLASS.
CGC CERTIFICATION
Have your dog certified as a canine good citizen! Meet with trainer to learn and practice the ten test items. Call or email for pricing.